Agricultural drones have many advantages:
a. UAV with wide control is not restricted by crop growth and geographical environment. Agricultural drones can operate in conditions where it is difficult for humans or machinery to land while crops are growing. If the farming area is solid, agricultural drones can save time and effort to get the job done without disrupting the physical condition of the soil. Agricultural drones can be raised and landed on site. Flying from a few meters to low altitude can control the effect of the flying jet in the visual range. Agricultural drones are very suitable for various complex terrain farmlands and various high and low plants and forests. Agricultural drones It can also precisely spray in the case of different crops grown in adjacent fields.
b. When spraying pesticides has a good spraying effect, the downward strong swirling airflow of the agricultural plant protection drone can turn and shake the crops, so that the crops below form a turbulent area, and some pesticides can be sprayed on the back of the stems and leaves, which is artificial Spraying and other spraying equipment can not achieve.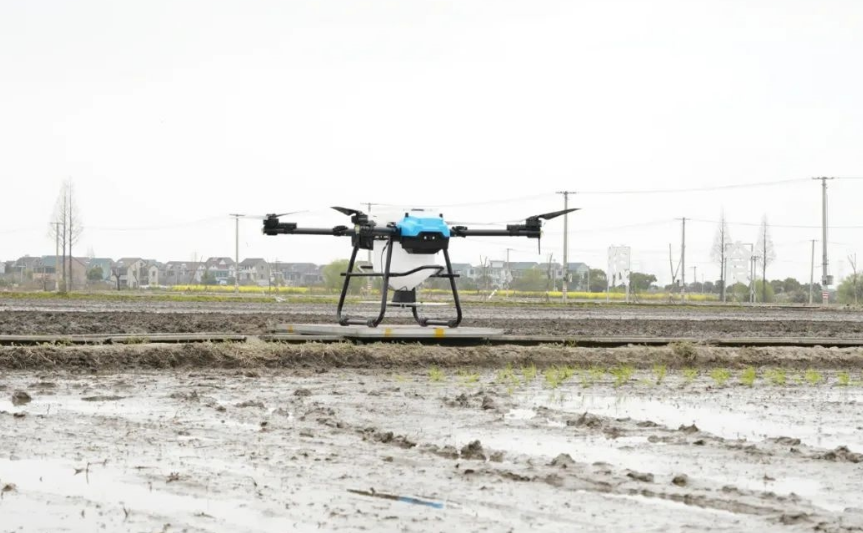 c. Compared with manual spraying, water-saving and agricultural plant protection drones can save at least 50% of pesticide usage, 90% of water consumption, reduce resource costs, effectively solve pesticide residues, water and soil pollution problems, and have good Environmental protection effect. If large-scale drone spraying is used, it will benefit the environment and agriculture. crop contamination.
d. The efficient UAV spraying speed is 3 m/s, the width of the spraying device is 3-4 m, the operating width is 4-8 m, and the distance between the UAV and the crops can be kept at a fixed height at a minimum level of 1- 2 meters. Scale operation can reach 5.3-6.67 hm2 per hour. Its efficiency is at least 100 times higher than traditional spraying. Agricultural drone operations minimize the exposure time of pesticide users to pesticides, thereby ensuring the health of pesticide users.
As a large agricultural country, my country has 1.8 billion mu of basic farmland, and a large number of people are required to engage in plant protection operations every year. However, at the same time, there is a gradual shortage of young and middle-aged labor in rural areas, and labor costs have increased. Coupled with the harm of pesticides to the human body, young people today are reluctant to spray pesticides. The emergence of plant protection drones not only avoids the hazards of traditional spraying operations, but also significantly improves spraying efficiency and control effects. Plant protection drones further promote modern agricultural production and bring more convenience and benefits.
Suzhou MANHOPE Agricultural Machinery Co., Ltd. was established in March 2009. The company is located in Wuzhong District, Suzhou City. With more than ten years of industry experience in UAV system-related machinery as the core, the company focuses on the R&D and production of UAV system equipment. Sales, adhering to the innovative concept of "drone platform". The company has independent R&D and directional development capabilities, and can customize exclusive UAVs for various enterprises and institutions. The company's UAVs cover many types: civil, industrial, urban fire-fighting UAVs, forest fire-fighting UAVs for emergency rescue. Man-machine and so on. In the face of new historical opportunities and challenges, MANHOPE people are full of confidence, and have the responsibility and ability to create better products and provide first-class services for our customers. Warmly welcome new and old friends to come to inquire, negotiate business, create a great cause and create brilliance together.